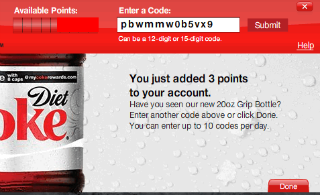 Have you ever noticed the codes printed on the lids of Coke products or on the flaps of the 12 packs? These codes can earn you free products to save on your grocery bill. That means more money in your Disney fund!
You sign up at MyCokeRewards.com and you can enter up to 120 points a week. The 12 packs of Coke products are worth 10 points each and the 20 oz and 2 liters are worth 3 points each.
There are tons of rewards you can chose from. The rewards change often. The best thing I ever got there was $26 in Subway gift cards for 700 points.
Be sure to check out all the various ways to earn rewards/coupons.