You can Save 5% Off Target Disney Gift Cards With Your REDcard.  Target sells Disney gift cards at the register for $25 or $50. Pick up the gift card and pay with your REDCard at checkout and you'll save 5% off your total. (This also works for ever gift card that Target sales except for Target Store gift cards.)
You can also order the $50 Target Disney Gift Card online and use your REDCard to pay to save an additional 5%.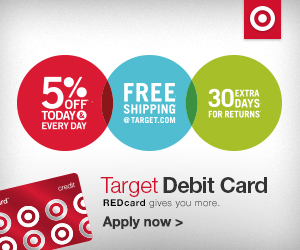 If you don't have a REDCard, you can sign up for one now. It will be linked to your checking account and you will pick a pin code for it.
You can also pay for Disney Gift Cards with Target Gift Cards. So if you earn a Target Gift Card on a deal (they have gift card deals in their ad almost every week), you can turn around and pay for a Disney Gift Card with it!
I've also heard that total basket purchase coupons work on Disney Gift Cards. So if you get $5 off your $50 purchase or $10 off your $150 purchase at the register, you can use it to buy a gift card!
If you purchase the Disney Gift Card on Target.com and you have a REDCard stored in your account, you can apply Target Store Gift Cards to your purchase and as long as there is at least $1 left, you can pay for it with your REDCard and get 5% off the total balance!
If you look at my purchase above, I got a $50 Disney Gift Card and I used $30 in Target Gift Cards on my purchase and I got $2.50 off for using my REDCard making my total just $17.50 for a $50 Disney Gift Card.