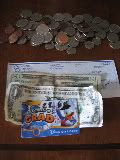 I found quite a bit of money today!
1. I miscounted the money left in the weekly budget and thought I had $40 but I actually had $60. I decided to add this $20 to the Disney budget since it was already spent in my mind.
2. I went through our 2009 Disney trip souvineers because I remembered I had a little bit left on a gift card. Found a change purse full of coins we had packed for the penny press and the laundry. $12
3. I got a check for $6.60 from Opinion Outpost.
4. I found $1 in the dryer!
5. I called for the balance on the gift card and it had $28.64! We had bought a lot of gift cards while we were down there for our spending money.
Total: $68.24!