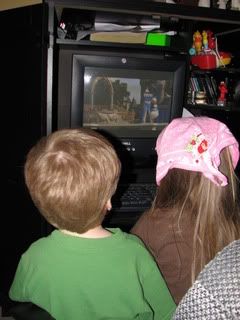 My kids were being really quiet so I went to see what they were doing. My daughter had put on a YouTube video of Dream Along With Mickey (a show in the Magic Kingdom) and they were watching it over and over and over. My son, who was just over 2 when we went in May 2009, was carrying on going "It's Disney World! It's Disney World!"
Jacob constantly walks around the house randomly saying "I want to go back to Disney World!" I would say he states that at least 10 times a day. I do not prompt him! He is also constantly going through his autograph book mumbling something to himself about Disney World.
My daughter is so good in school because she knows that she will get to go back to Disney as soon as school is out. (That is what we told her. Be good in school = a trip to Disney) She has not gotten in trouble once this year! She wants to go back so bad. And the very first thing she wants to do is ride Peter Pan's Flight.